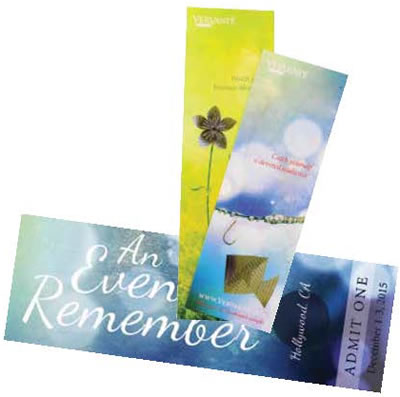 Creative ways to use traditional bookmarks
Print any size, round or square corners, front and back.
Not just for marking your page in a book anymore, bookmarks are powerful tools that keep your message consistently in front of your audience. And don't forget the "share-ability" factor – bookmarks are often shared among colleagues, within organizations and networking groups, among friends and even anonymously at bookstores or live events.
Boost your visibility and get your message out there with these creative ideas for using custom bookmarks as the effective biz-building tools they are:
Tickets for live events (or even virtual ones)
Companion product to go with your newly-published book
Top 10 Lists that fit in your pocket
Additional part of an information product
Easy to include inside cards
Rulers or measuring guides for crafters and artists
"Insider" VIP access passes for special events, networking meetings, etc
Unique recipe card to accompany cookbooks or crafting book
Technical guides: Quick key shortcuts, Coding, Cheat sheets