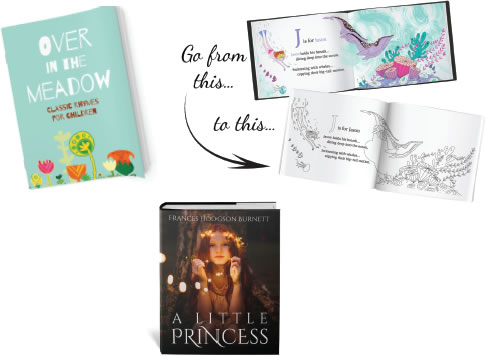 Children's Books
Have you ever thought about publishing your own children's books? Every day more children's book writers and illustrators are choosing to print their own books and enjoy the freedom and creative control of self-publishing. Here at Vervante, we offer hard cover, saddle-stitch and perfect bound books young readers will love.
Kids Love Color
Bright, vibrant images are a must when it comes to children's books. Our state-of-the-art printing facilities will produce illustrations and artwork in rich colors and vivid detail that will delight readers.
Kids Love Variety
Our children's books are lovingly crafted and custom-designed to fit exactly what you need - large or small, picture book or coloring book, large print or with unique binding and customized content. You can count on us to help you create the perfect book for any age.
Authors Love Flexibility
Full color, soft cover, hard cover, short run digitally printed, or larger runs offset printed - we've got options for you. We print all of our beautiful children's books in our U.S. facility. Your books can be stored in our warehouse and drop shipped on demand.
If you are ready to publish a children's book, we provide the high-quality, affordable printing services you need to create something truly amazing that kids and their parents will love. Please email us at sales@vervante.com or schedule a call with one of our publishing professionals HERE for free quotes and to answer any questions you might have.