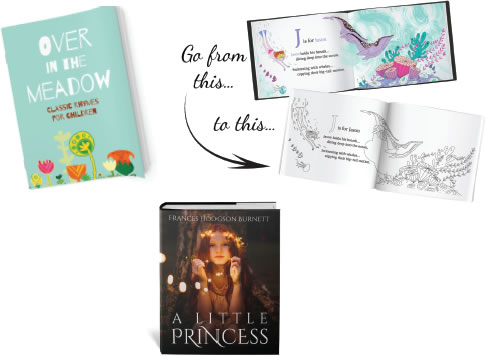 Children's Books
Have you ever thought about publishing your own children's books? Every day more children's book writers and illustrators are choosing to print their own books and enjoy the freedom and creative control of self-publishing. Here at Vervante, we offer Board Books, Spiral-Bound Books and Saddle-Stitch Booklets that are perfect for creating books youngsters will love.
Kids Love Color
Bright, vibrant images are a must when it comes to children's books. Our state-of-the-art printing facilities will produce illustrations and artwork in rich colors and vivid detail that will delight readers.
Kids Love Variety
Lovingly crafted, large or small, big print, picture-book, board book, or with any other kind of binding and customization, we can help you create the perfect book for any age.
Parents Love Durability
From the playground to the playroom, books that last are the best books of all. We offer superior quality and durability by using materials and binding methods that stand up to sticky fingers, stuffed backpacks, and the wear-and-tear only a child can bring.
If you are ready to publish a children's book, we provide the high-quality, affordable printing services you need to create something truly amazing that kids and their parents will love. Please email us at customerservice@vervante.com for free quotes and to answer any questions you might have.