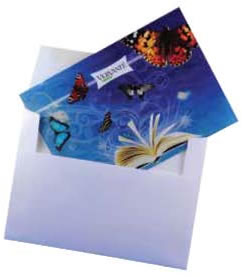 Greeting Cards
Make a statement with beautiful, brand-authentic cards that will make someone's day while creating a favorable impression of yourself and your company that lives on and on. We offer a variety of sizes, all printed on demand.
In a world where handwritten notes are becoming a rarity – you can stand out from the crowd and create a big impression by creating and sending your own personal correspondence. Did you know, according to the U.S. Postal Service's annual survey, the average home only receives a personal letter once every seven weeks? Some might say that in this digital world — where emails, tweets, and texts are easier than handwritten notes — that this is the natural evolution of communication. But, we at Vervante are true believers in the importance of handwritten notes, which remain impactful and unique in many ways.
As a business owner, cards that incorporate your brand are a nice touch for saying thank you or welcome to our program. They are also great for accompanying special packages and perhaps even encouraging future sales.
Got Envelopes? Envelopes are available in a wide variety of sizes and colors and can be pre-printed with either a simple return address or a beautifully-printed graphic on the envelope.