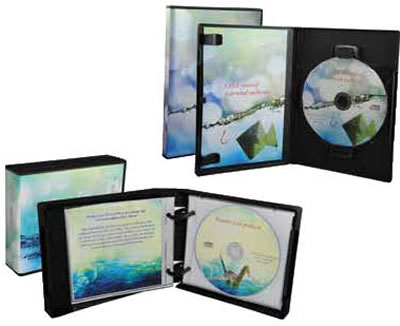 A Powerful Way to Share Your Expertise
Are you ready to share your message with high-quality CDs and DVDs? We can help you produce, package and ship your very own CDs and DVDs worldwide in professional-grade, custom branded packaging with no minimums and no set up fees.
We keep things simple for you. Just upload your audio or data files from your Vervante Author Dashboard (or send us your DVD master), we put your content on the exact amount of CDs or DVDs you need, then send them where you want. Need 1? You got it. Need 1,000? No problem!
Your expertise can make a positive difference in your audience's lives. Need ideas?
Educational business series

Meditations & spirituality

Professional self-help guidance

Exercise videos

Cooking tutorials

…

The sky is the limit!
There are three types of CDs you can create:
An audio CD: Can be played in a car, on a computer or in a home stereo. The total length of the files or files on an audio CD is 79 minutes.

An MP3 CD: Contains MP3 files and can only be played on a computer using an MP3 player such as iTunes. The maximum size of the file or files is 700 MB.

A data disc: Can only be played on a computer and can contain audio files, data files or a combination of both. The maximum size of the file or files is 700 MB.
For DVD projects we need a physical disc master. Please send DVD masters to:

Vervante
400 North Geneva Rd Suite C
Lindon, Utah 84042
Please include your name, the project title, and send us an email at
customerservice@vervante.com
letting us know it's on the way.