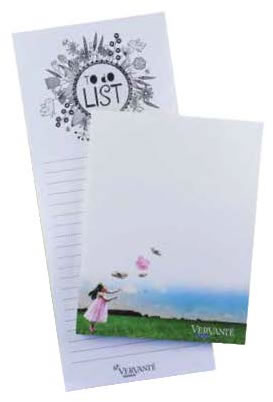 A practical way to keep your brand in front of your audience
Perfect for the trendsetters and the go-getters, Notepads are highly customizable, creative products that provide a wide variety of options for keeping your brand visible and top of mind for your audience.
The sky is the limit for how many different kinds of uses notepads have in their lives of your clients, employees, potential customers and more. But one constant for all notepads is that your brand stays visible and top of mind, whether on their desk, on the refrigerator or wherever they may go….
We print any size, any number of sheets per pad
Full color or black-and-white
To-do lists are classic choices when it comes to notepads, but feel free to let your creativity take the wheel:
Event planning checklists (weddings, graduations, work, school and play)
Vacation / travel essentials
Healthy food shopping lists
Tracking workout program progress
Inspire short, daily journal entries
Car-care maintenance tips
Business networking contact lists
Help kids keep track of chores, homework, sports and school
Financial program support – learn, invest, record and keep your CPA happy
Seasonal gardening or outdoor series
Special offers for loyal / return clients and customers